Welcome to Manchester Plantation Shutters, a family business established in 1998.
Since supplying our first shutter we have accumulated considerable experience in the shutters business throughout Cheshire, Manchester and the North West of England.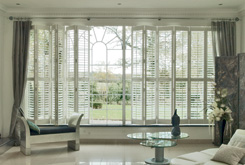 We buy our shutters from the world's largest shutter manufacturer who supplies us with a fantastic range of top quality natural and engineered timbers along with a host of optional features. This enables our fully trained staff to tailor each shutter to your exact specification.
Shutters are extremely practical and help to control ventilation, noise, light, heat and security, a particularly elegant product to enhance any setting.